To discover the real charm of a country town in the Experience Perth region, spend a while at the pub - it's where the beer is cold, yarns are spun and history begins.
In the historic Avon Valley , country pubs brim with character.
At York , you'll find the state's oldest pubs, the Castle Hotel, built by convicts in 1853. The Shearer's Bar at the Castle Hotel is the place to go for good vibes, cold beer and pub grub. It's also a popular spot for a post-skydive celebration so there are plenty of exhilarating tales to be overheard.
For a ghostly encounter, head to York 's historic Settlers House. The hotel is said to be haunted by the ghost of a woman who once owned it. Watch out for her on the cobble stone, lamp-lit pathways.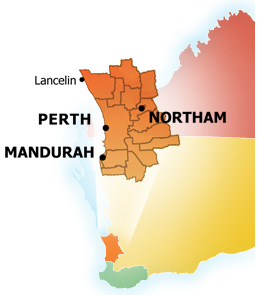 Enjoying the laid back vibes at Parkerville Hotel in the Perth Hills.
Get a taste of history and enjoy a scrumptious lunch at New Norcia Hotel
Gathering some mates and heading to the Swan Valley for a day of wine, food and beer tasting.
Taking to the skies in a hot air balloon over the Avon Valley 's patchwork farmland.
Discovering the wonders of the many timber towns dotted around the region, such as Serpentine, Jarrahdale and Dwellingup.