To discover the real charm of a country town in Australia 's Coral Coast , spend a while at the pub - it's where the beer is cold, yarns are spun and history begins. You'll find watering holes right along the coast - they're as refreshing as a dip in the ocean!
For a classic fishing tale about the one that got away, pull up a barstool at Exmouth's Potshot Hotel. The pub was built in the 1960s for the hundreds of American navy officers at the RAAF base. These days it's a popular spot for locals and visitors after a day at sea. The Potshot has a lively history - in 1999 it took a direct hit from Cyclone Vance. True to the town's pioneering spirit, the Postshot was renovated with a new bar, named Vance after the cyclone.Resort style rooms were also added.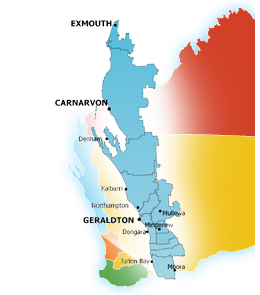 A good night out at the Freemason's Hotel in Geraldton.
Stopping in at the Cervantes Pinnacles Motel for lunch before heading to the Pinnacles – fascinating limestone formations in the Nambung National Park.
Going swimming with the biggest fish in the world – the whale shark.
Exploring the red rock cliffs of Nature's Window at Kalbarri National Park.
Meeting the friendly dolphins at Monkey Mia in the Shark Bay World Heritage Area.