There's really only one place for a tropical cocktail - a tropical pub in Australia 's North West . Here, you can discover the real charm of an outback town. It's where the beer is cold, yarns are spun and history begins. Country pubs in the Kimberley and Pilbara areas brim with character.
Many, like the Roebuck Hotel, are found right in the centre of town. Broome's oldest pub lives by the saying "if it's going to happen in Broome, it's going to happen at the Roey." If you stumble across local character, "Swindle", pull up a chair and order a coldie because he has tales about pearling and gangsters to last a week. Built in 1890, the Roebuck Hotel is heritage listed
While sunset camel rides on Broome's Cable Beach are world famous, it's the tales about beer drinking camels that draw attention at the Whim Creek Pub.This pub, located half way between Karratha and Port Hedland comes complete with a wildlife sanctuary, and this is where the camel with a penchant for beer, once lived. Don't worry about missing the Whim Creek Pub - it's painted bright pink!
The Iron Clad Hotel in Marble Bar is famous for having the coldest beer in Australia 's hottest town. With the mercury regularly zooming past 40 degrees Celsius, you'll be pleased to know that the air con works well. In days gone by, it was the corrugated iron roof that supposedly kept things cool as it doesn't absorb or hold heat. If you can't get enough of the lively atmosphere, stay the night in simple accommodation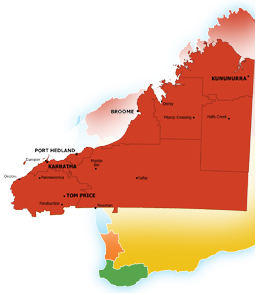 Visiting Whim Creek Pub and hear the tale of the beer-drinking camel.
Four wheel driving to Cape Leveque and learning more about indigenous culture. At the end of the day return to Broome and enjoy dinner and live entertainment at Divers Tavern.
Checking out the interesting memorabilia and enjoying a pub meal at the Crossing Inn .
Taking a camel ride along Broome's famous Cable Beach .
Exploring the dramatic gorges, secret canyons and enticing rock pools of Karijini National Park and the magical Bungle Bungle range.